Epic thread revival.
My current setup, as explained in my build log, uses the factory water pump housing, with the factory thermostat, and in order to retain proper bypass operation and even coolant temperature, I have welded up the bypass channel and tapped a new fitting directly from the water pump housing to the heater return before the EWP.
In combination with the Davies Craig digital controller, this works fantastically. Quick warm-up times, very consistent temperature, no overcooling on cool nights/freeway, and the EWP only runs when it needs to.
Since I originally put together this setup (which Adsy also used successfully), the EWP range has expanded significantly with up to 150L/min models now available. You also get alloy housings instead of ABS. The controller has also improved. All up, it's a significantly improved product with even more cooling potential.
For my LPG turbo conversion, I will need to reconsider the layout of my EWP system (so that coolant consistently runs through the LPG converters and to ensure the turbo coolant path operates properly). I have long wanted to rejig the setup anyway to get rid of the heavy water pump housing and replace with a simple inlet/outlet flange. This setup is fine for a track/drag car, but IMO a street car really needs a thermostat with bypass to ensure proper operation.
The solution is a remote mounted inline thermostat housing. A few options were discussed in this thread. After further research and being prompted by a thread on rx7club, I have done some more research and came up with the following best options:
(1) Rover Pressure Relief Remote Thermostat.
This is an ABS unit with self-contained thermostat (with a number of temperature ratings available). It has a bypass incorporated.
This was designed for K series engines fitted to Lotus Elise, Lotus Exige, Land Rover Discovery and Land Rover Freelander. The initial remote thermostat housing for those cars had a number of issues. Basically, the pressure and temperature differential between the water jacket and radiator meant that whenever the thermostat would open and close, the engine would experience thermal shock and suffer blown head gaskets.
Rover came up with this system to overcome that design flaw. It is designed in such a way that the bypass will open to equalise pressure.
The great thing about this design is that it can be fitted in the lower radiator hose, BEFORE the EWP. This has a few advantages I can, such as packaging and much easier to bleed when filling up the system cold. Basically you could run the EWP cold and air pockets and be flushed out even with the thermstat closed.
The below diagrams show how it would work in a lower radiator hose position.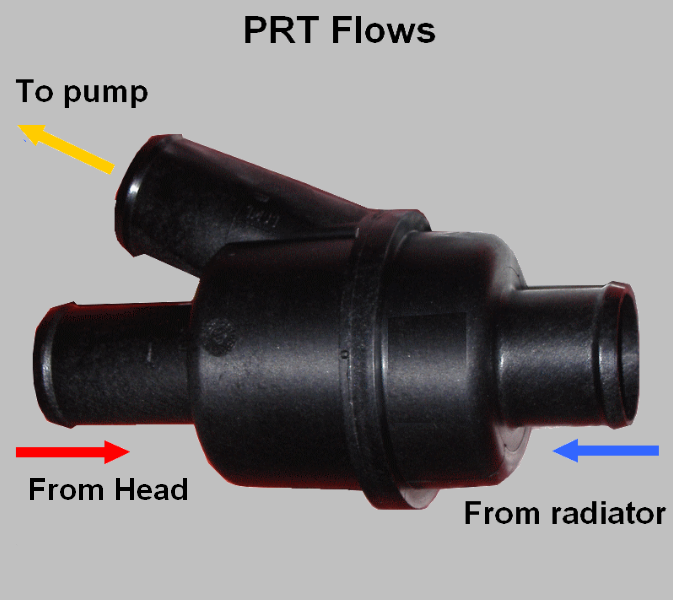 Going off this diagram:
(3) goes to engine outlet
(8) goes to EWP inlet
(12) goes to radiator lower hose
(23) goes radiator upper hose
For an 82'C thermostat, the Rover part no. is PEL500110. This goes for around AU$80, but I'm sure it could be found much cheaper. I have my doubts about plastic, but it's a self-contained part with no flanges (reduced risk of leakage) and people seem to be running these in 4WDs for 100,000s of km.
(2) Fiat 124 thermostat.
This is a cast aluminium unit and much nicer looking. Like the Rover, the housing isn't serviceable - it comes as a unit with the thermostat and seals fitted. Aftermarket replacements appear to be limited since it's an older rarer car, but it looks like Tridon makes the same style with a few temperature options. These are shown below:
Attachment:
Fiat style thermostat housing.JPG [ 38.19 KiB | Viewed 1132 times ]
A quick online search shows the cost of the 82'C part is around $95.
Tridon part number is TT258-180P.
(3) 1976 BMW 2002 E10 thermostat.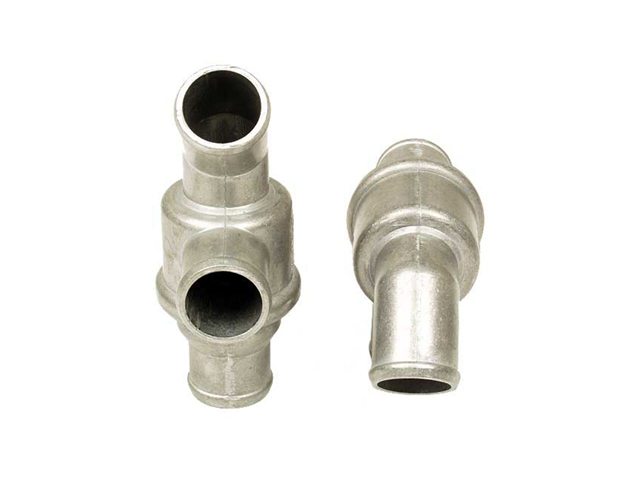 I came across this thanks to the tip-off from Simon above. Same idea as the Fiat but the angles will probably work better for the pipework needed in a rotary application.
According to my research, the BMW part number for the 80'C version is 1153146805680
Tridon also makes a 82'C version which is exactly the same factory spec as Mazda rotary engines.
Attachment:
z-TT260.jpg [ 21.39 KiB | Viewed 1132 times ]
The part number if TT260-180P. I found it online for $80. Vernet branded ones from overseas are even cheaper. One place has it for US$16.
I think this is the pick of the lot. I can't believe after all the years the answer was so simple and from a 1970s car.
There are other options too including custom billet aftermarket jobs, and an alloy flanged remote thermostat housing from a Ford Cobra, but I picked the cheapest simplest 3 I could find.
No one else will probably use this information, but I thought I would share to hopefully save someone else hours of research.