Typically if you go to a track day you're a car modifier who fancies themself as a bit of a steerer. You hit the track to see how much faster you can go as a result of spending: A) Late nights in the garage. B) All your money on some shiny new part that comes with a free sticker, or C) All of the above.
Believe it or not there's another type of track day enthusiast and they don't have grease under their fingernails. They're called track whores. They don't
want to tinker or do any serious tuning. They just want to drive. Weird hey!
Narada Kundinar from NSW does a track day every 6 weeks and can push his mildly modified Honda S2000 around Wakefield Park in an impressive time of 1:10.8. Narada is lagging behind on the Wakefield Park ADVAN Neova Cup Leaderboard; but watch out. He has new tyres for the upcoming Circuit Club Day
on 3rd December.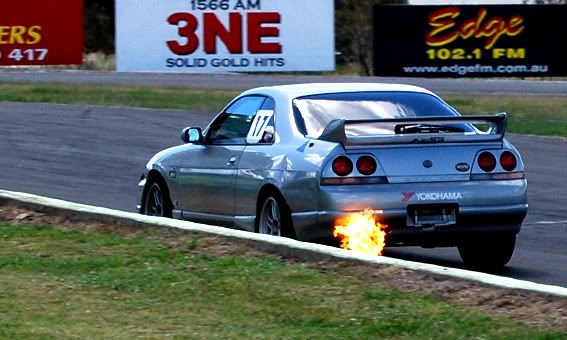 John Richardson from VIC does 2 track days a month and can push his Nissan Skyline GTST around Winton in 1:39.4. John is currently second outright on
the Winton Raceway Leaderboard in the ADVAN Neova Cup. He's less than 2 tents behind star driver Adam Newton in a BMW 135i.
Narada is Cofounder of Circuit Club and the Automotive Photography Awards. He wrings the neck out of a 1999 Honda S2000. I say "wrings" rather than "drives" based on the amount of times the tacho needle hits 9,000 rpm! He'd love to be an F1 driver. Like John he drives his car at its absolute limit and
doesn't mind sliding it around.
The car has an Amuse R1000 exhaust, BMC carbon air box, BC Racing coilovers and a racing harness. It rides on 17 x 7.5 front and 17 x 8.5 ADVAN RS
wheels shod with Yokohama ADVAN Neova AD08 tyres.
Narada has worn out a lot of tyres. Here's his honest opinion on the ADVAN Neova.
I first got AD08 Neovas in November 2009 after hearing that a lot of tuners in Japan were fitting them to their street cars. My first outing on them blew me away! It was at Wakefield Park in December, so the weather was stinking hot, and what I found out very quickly was that these tyres acted much like an R-compound tyre – they stayed consistent in grip over the 6-7 laps of each session I went out on. While the grip wasn't a huge step above my last set of
top range tyres; the longevity was simply amazing.
It was 2-3 track days later that I eventually achieved a PB on my tyres. The lap times stayed pretty consistent for around 10-12 events. Granted, the S2000 is kind on its tyres, but they lasted a lot longer than I thought they would. Between track days 13-18 the grip started to drop off, and in the end with bald tyres, my best lap time was about 4 seconds a lap slower. But I wouldn't recommend wearing them down that far!
I think the key to the longevity of these tyres comes down to the super stiff sidewall. I can run 29-32psi hot around the circuit, which means the tyres don't overheat and the stiff sidewalls mean the car won't lean over them around the corners. Other tyres I've tried I need to run at 40psi hot to stop the tyre rolling on to their sidewalls and wearing out super fast.
I'm now on my second set which is now nearly 3 months old now. I go to a track day every 6-8 weeks, so you do the math. These tyres are the best street/track set I have ever used!"
John Richardson has been doing track days for 2 years. He's an ICT Manager (whatever that is). His weapon of choice is a Nissan Skyline R33 GTST which is a rear wheel drive turbo. It's been modified with Greddy Type S suspension, Cusco camber and caster adjusters and Whiteline swaybars. The RB25 engine has 210 kW with the help of an HKS intercooler and something that makes it spit flames out the back. This power figure is low by Skyline standards and is certainly not the secret behind his lap times. He uses 255/40R17 ADVAN Neova tyres on 17 x 9.0 Enkei wheels.
Recently at the Skylines Nationals John won a trophy for the fastest competitor in the standard two wheel drive class. In doing so he set a faster time
than the standard four wheel drive class winner in a Godzilla. An R33 Nissan GTR with 300kW at the treads (The treads must not have been the right ones).
John switched from Kumho KU36 tyres and Federal 595RSR tyres to the ADVAN Neova. When he first tried the ADVAN Neovas at Sandown he was amazed. He could not believe the grip and admitted to "giggling" on his second lap on the tyres. He said the mid corner grip and exit grip were astonishing. While he did a PB of 1:24.09 he believes he could do a 1:23 just by getting used to the tyres. You can see he's looking for the limits. Watch the way he hooks the car fearlessly into Turn 1 at 4:47 minutes into the video.
With regards to tyre pressures John thought that 34psi hot have the tyres a little too much understeer through the fast corners but awesome grip in the slower corners like turn 4 and Dandenong Rd.
When he dropped the pressures down a little to around 31 hot the understeer went, mid corner grip improved slightly but more oversteer crept in.
For more information or to join in on the fun, register your times at:
http://www.advanneovacup.com