When Jake "Drift Squid" Jones won the hard fought VIC Drift round at Calder on 29th October he delighted his large contingent of supporters. But I bet they said "Phew" before "Hooray". Winning a major drift event was only a matter of time for Jake. He is so committed to drifting.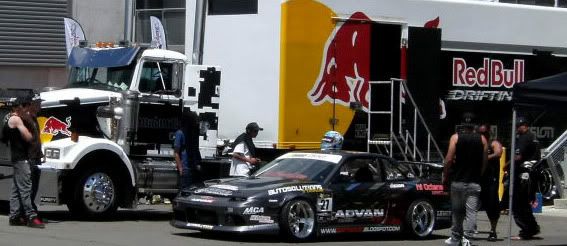 In 2010 Jake headed to New Zealand to compete in their D1 series in his (formerly) trusty ADVAN/Hi Octane Nissan S13 Onevia (Never heard of a Onevia? Me neither. Pronounced "1-via". Onevia is a combination of two car model names "180sx" and "Silvia". The car is creating by adding a 180sx front end (pop-up headlights) onto an S13 Silvia.). Jake, impressed the locals with both his driving and his patience as his car seemed to break a different part at crucial moments in qualifying and competition in almost every round. He hung out with Mad Mike Widdett with his crazy Quad Rotor RX7, complete with Red Bull Race Transporter.
Jake's first win this year was for "Best Presented Car" at Round 2 of the G1 drift event held at Malala South Australia. Not quite the win he was hoping for but acknowledgement for the quality rebuild and new ADVAN war paint. Jake did this event as a shakedown before heading to Sydney for the Tectaloy Drift Challenge at Eastern Creek. With Jake qualifying first it briefly appeared that his bad luck had gone with the old paint scheme. In the battles Jake had an oil pressure scare and backed out, missing a podium finish by one spot.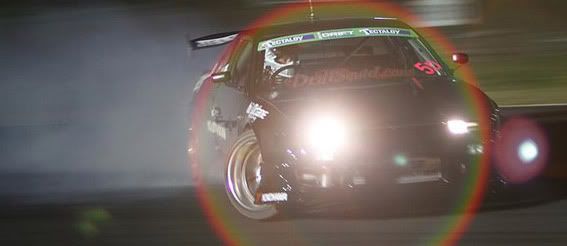 Jake qualified first again at the Tectaloy International Drift Challenge at Yokohama World Time Attack 2011 (after having to swap gearboxes of course). The next day Jake spun in his first battle. With sudden death rules that was it for the event.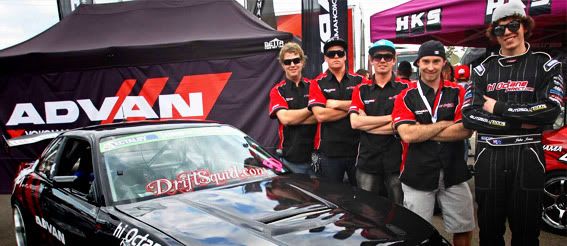 Jake's crew and family support Jake every step of the way. Like his sponsors they were hanging out for Jake to finally win one (No pressure Jake).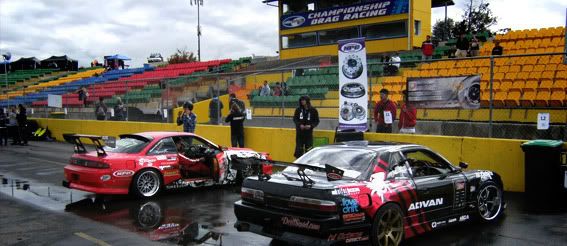 Drift Attack run by VicDrift was held at Calder Park on 29th October (for those who couldn't see the tyre smoke). For this event it Jake was equipped with Yokohama A.driveR1s which he hadn't used before. With a UTQG Treadwear rating of 300 they're known to get good mileage (except on drift cars) and they're above the minimum Treadwear rating requirement for all events.
With a market price of around $275 for the 235/40R18 inch tyre these the most affordable of Yokohama's performance tyre range. With a directional tread design and large tread blocks it will make a good drift tyre.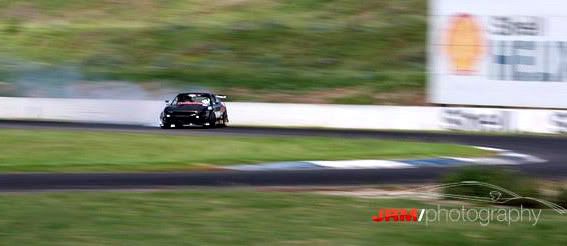 Being an unfamiliar track Nigel Petrie and Simon Michelmore who were in the pits next to Jake were kind enough to give him some good tips. The Calder Park course starts with a fast third gear entry into a ninety degree corner, then a quick switch to a left corner which requires full throttle to stretch it out to the final right corner onto the straight.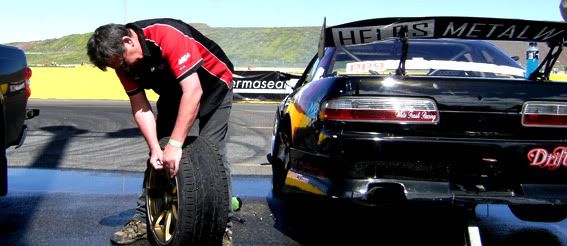 After a fair amount of laps the practice session was over. Jake came back into the pits and was feeling good about the new Yokohama A.driveR1's. He says "They gripped up well running at high tyre pressures. The reason I ran higher pressure was due to them being a new tyre and I was keen to see how they went."
Jake continues "A quick pressure check and they didn't seem to sky rocket like most tyres do and also guess what? They held up awesome! The Yokohama A.driveR1's still had good enough tread to go back out again. So another practice session was up and I went to finish them this time."
This time Jake totalled the tyres. "Not only were the Yokohama A.driveR1's grippy; but according to everyone following me that couldn't see anything. The crowd said the Squid mobile was easily the biggest smoke maker" Jake said.
It was now time for Jake's first qualifying run. In the past, he has had much success during this stage often qualifying first. "I went in with the same enthusiasm aiming to push out a good but daring run. Sure enough thought this time it bit me back and I spun coming out of the last transition" says Jake.
Coming all this way, Jake wasn't about let his second qualifying run be his last of the competition. "I put down a very safe run which I thought pushed it just enough to make sure I was in the top 16." When the results were announced, Jake had managed to qualify 5th, well above his expectations after the first qualifying lap. It was time to prepare his car for the battles.
Jake's first battle was against Dean Trajkouski where he was first lead. Into the first corner he had pulled a significant gap, finishing the run hitting all clipping points successfully. ". I was now feeling great on the new Yokohama A.driveR1's. It was now my turn to chase." Dean was slower than Nigel and Simon in Qualifying, however Jake describes the chase so much fun. Finishing the run at his door, Jake had progressed to the Top 16.
Jake was now up against long time friend and Insane Drifters member known as 'Papa'. In the first run, Papa had entered the run too quickly and tapped Jake resulting in a spin. However, this did give him the advantage. On the second run, Jake kept it simple chasing and stuck close letting him advance to the top 8.
Up against veteran Chris Dejager, Jake was leading in the first run again. Around the first corner, Chris was tight on Jakes tail, but the Yokohama A.driveR1's had far more grip and pulled away from him by the end of the run. The same grip allowed Jake to stick close to Chris in the second run and allow him to progress to the top 4.
Jake was to lead during his first top 4 battle against Nigel Petrie. He pulled a few car lengths into and managed to hold the gap until the end of the run. In Jake's second run he say: "Into the First corner I pushed hard to get close to Nigel and stay with him. I Pulled back for the transition and then powered back on to get back up close to him. The Yokohama A.driveR1's really helped on this slight straight section giving enough grip to catch him".
"The judges called for an OMT [re-run] on this run which I didn't mind as it was so much fun". Jason pushed hard during Jakes lead run but during his chase run, Jake managed to hold onto Jason's door the entire session. It was decided, Jake was now in the final.
The Judges were very quick to run the final and only it only gave Jake enough time to put on a fresh set of Yokohama A.driveR1's to go up against Agges.
Jake was set to lead in the final battle. "Through the entry and into the final transition I was pushing harder then I had all and day paid off as I grew a gap from Agges. Before I came out for the finals a few people checking the tread left on my tyres just to make sure I was within the guidelines"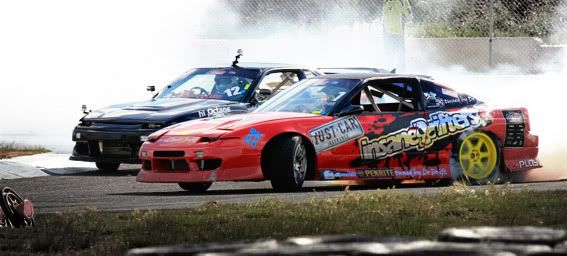 It was now Jakes turn to chase. It was a near on perfect chase run and it left the crowd unknown to who the winner was going to be. Not even Jake was aware of who would be announced as the winner. "Win, lose or draw I didn't mind as I was just happy to finally be back on the podium having fun with good mates".
Fourth and Third place were announced as the suspense grew as to who would be announced as the winner. Finally after what seemed like an eon, 2nd place was announced as Agges. "It was like an instant cold shiver going down your back and it felt so surreal. I was in shock and couldn't believe I had won!"
Jake would like to thank the Judges, the spectators for making it out, and all his sponsors. Congratulations Jake!
For more information on Yokohama's A.driveR1 tyres (featured on the ADVAN Onevia) Click Here
For the rest of the Yokohama range Click Here